Is A Pre Wed Shoot Right For Us? Top Tips & Advice For What to Expect on Your Pre Wed Shoot
I so often get asked "should we opt for a Pre Wed shoot?! We're not sure if it's our sort of thing! …and don't worry – I totally get you! Having professional photos taken with your other half (other than the occasional selfie) isn't exactly something you do every day, so of course it's natural to feel apprehensive.
However, it's my job as a photographer to ensure you come away from your Pre Wed saying "we actually really enjoyed that!" as opposed to saying "well that was awkward.." because ain't nobody got time for awkward photos.
So, I've put together this handy blog, with a few of my top tips which I hope will help you to decide whether a Pre Wed shoot is right for you as a couple, as well as give you some general pointers for what you can expect from your session with me. I hope it helps!
1. WE'RE REALLY CAMERA SHY. DOES THIS MATTER?
Nope – that's totally ok and is not necessarily a bad thing! Controlling your environment is a really easy way to help work around this and keep those nerves at bay. Opt for a quieter location, instead of a busy tourist hotspot. Also, going early morning or later evening is great for avoiding the crowds (plus the lighting is always best around these times, which is a win win!). A quieter environment will really help you to be yourselves in front of the camera as much as possible, resulting in natural, authentic images. It goes without saying that the more comfortable you both feel, the better your photos will look.
A Pre Wed shoot is the perfect opportunity for helping to overcome any initial camera nerves, so come the big day you feel totally prepared. Treat it as your trial run! I get told by SO many of my couples how nervous they were before their shoot, yet afterwards they tell me how much they actually really loved their session and were able to relax super quickly. Trust in your photographer (cos we got you) and you'll soon forget that being camera shy was even a thing!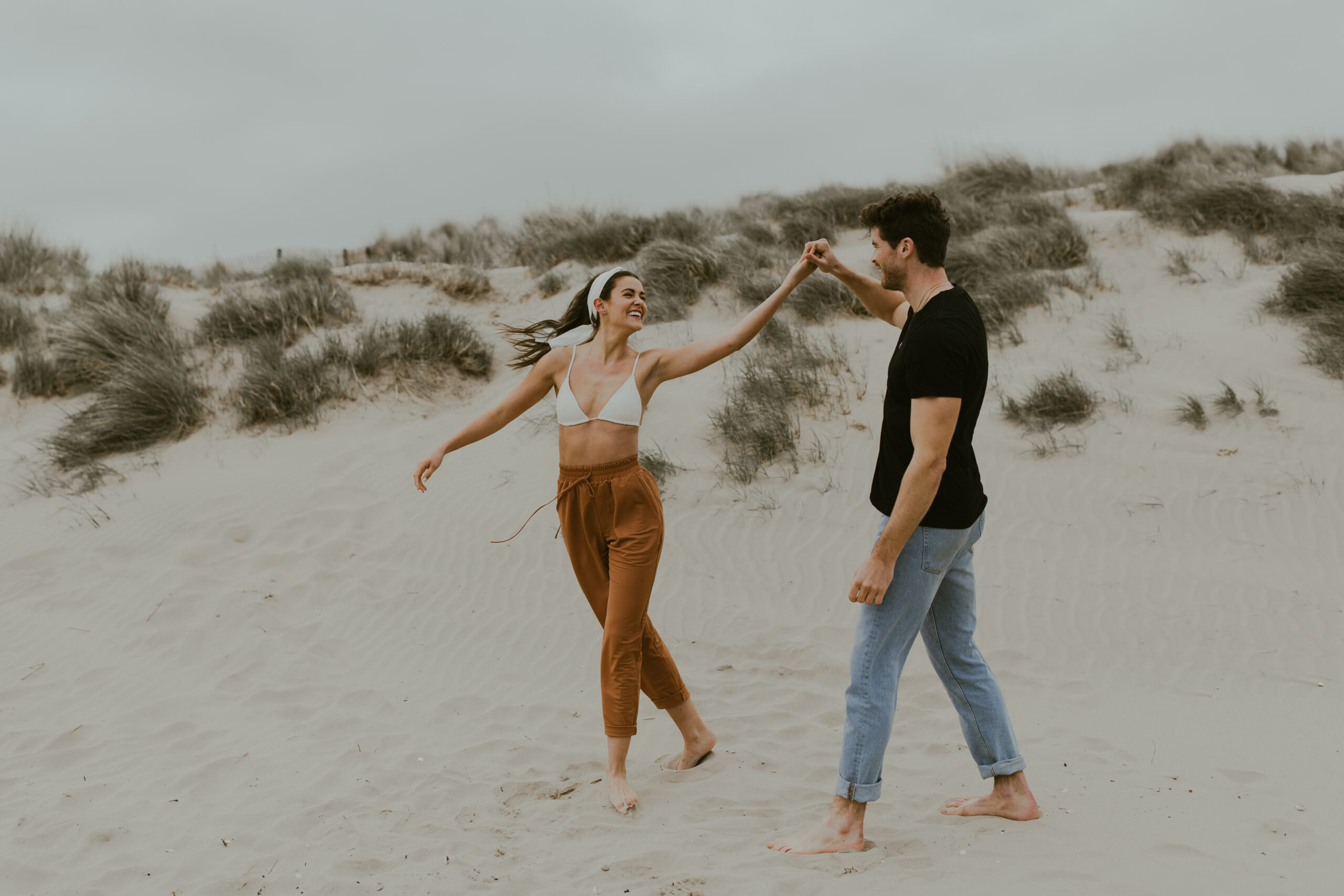 2. HOW CAN WE GET BEAUTIFUL, NATURAL PHOTOS?
I regularly get couples anxiously message me saying "but your couples look so natural in their photos! How can we get photos like this without looking awkward?"
..We got this too!! I have a little black book up my sleeve (except it's in my head) of prompts, poses and everything you need to get those gorgeous, genuine images that truly reflect the two of you. I will gently guide you through the session, if I feel you need prompting, whilst regularly switching up the mood to ensure you get a variety of shots.
I always bring a bluetooth speaker with me too to play some tunes and get us in the zone (song requests are always welcome of course!).
Pre Weds are a great way for me to get to know you as a couple and equally for you to get to know me as your photographer! Having a full hour dedicated to the shoot means we have plenty of time to get creative and take out time without feeling rushed. On a Wedding day, time is usually of the essence(!) so I love being able to spend good quality time with my couples before the big day.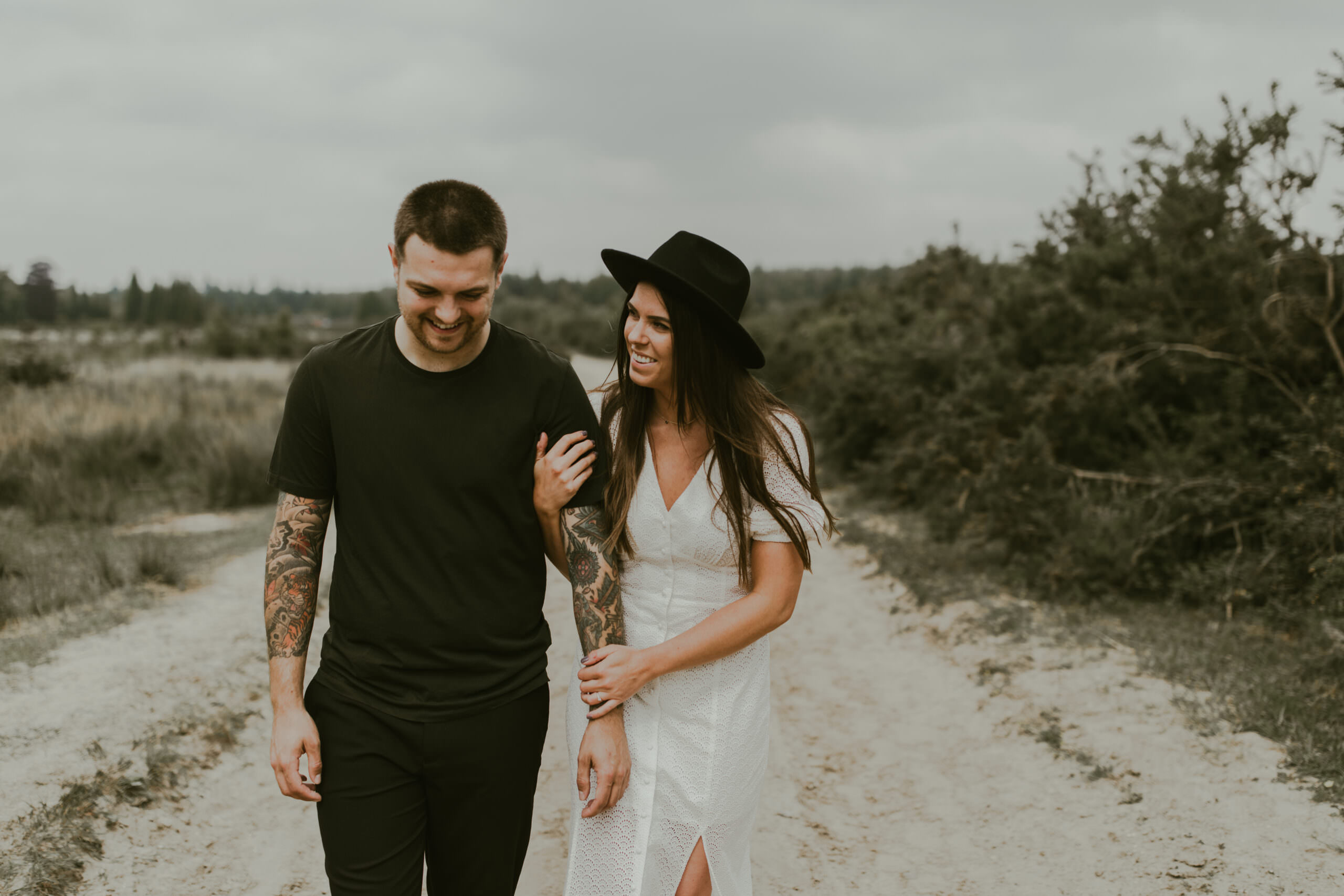 Take into account your chosen location when planning your outfits. Wearing your best stilettos for the beach might not be the best idea! But perhaps a floaty skirts and some sandals? Or some denim shorts and a plain cotton tee.. whatever you like! If in doubt, feel free to bring a spare pair of shoes, or even a second outfit if you're feeling a bit extra, or if the weather plans to turn. 
Considering your photographers style can also really help! For example, my photography style is very earthy, muted and warm. Typically, I recommend to my couples to wear neutral colours where possible, or earthy tones such as khaki, creams or reddish browns as these generally photograph best. 
Compliment each other – don't match!
Remember, style is important but comfort is also key. Your Pre Wed shoot will likely be pretty active, so make sure you're wearing something you don't mind running about in, sitting in, etc. 
Lastly, BE YOU! Ultimately, your outfit choices should really reflect your personalities, both individually as well as a couple. So if the points above don't particularly resonate with you then that's ok! Celebrate your style and embrace it!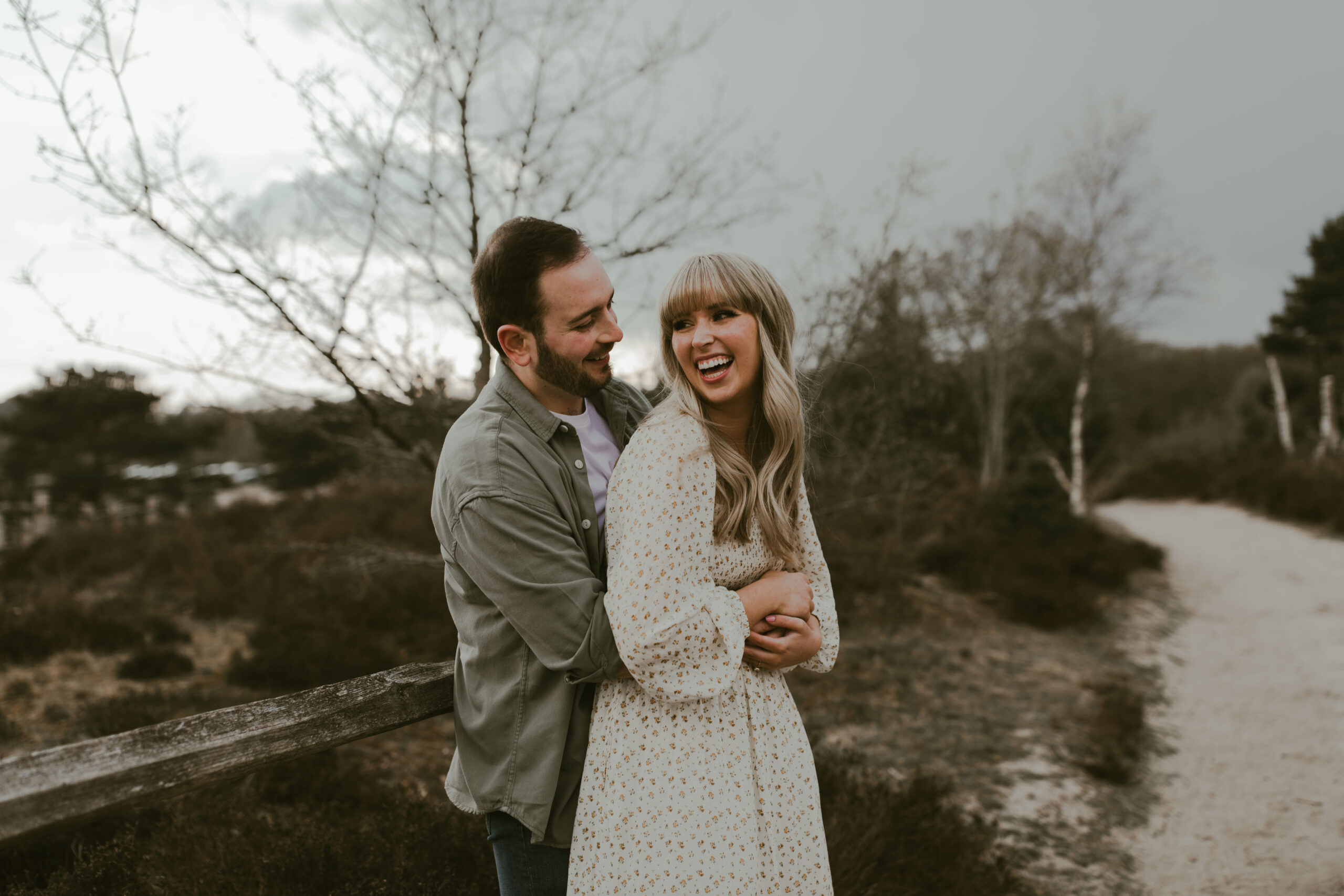 4. WHERE WILL WE GO FOR THE SHOOT?
It's totally up to you! Most couples usually like to head somewhere that is personal to them, for example the spot they got engaged, their favourite walk, a cute village or even their home. But if inspiration is running dry the don't worry! I have a few secret locations especially for Pre Wed shoots that I love and would be more than happy to share with you upon request!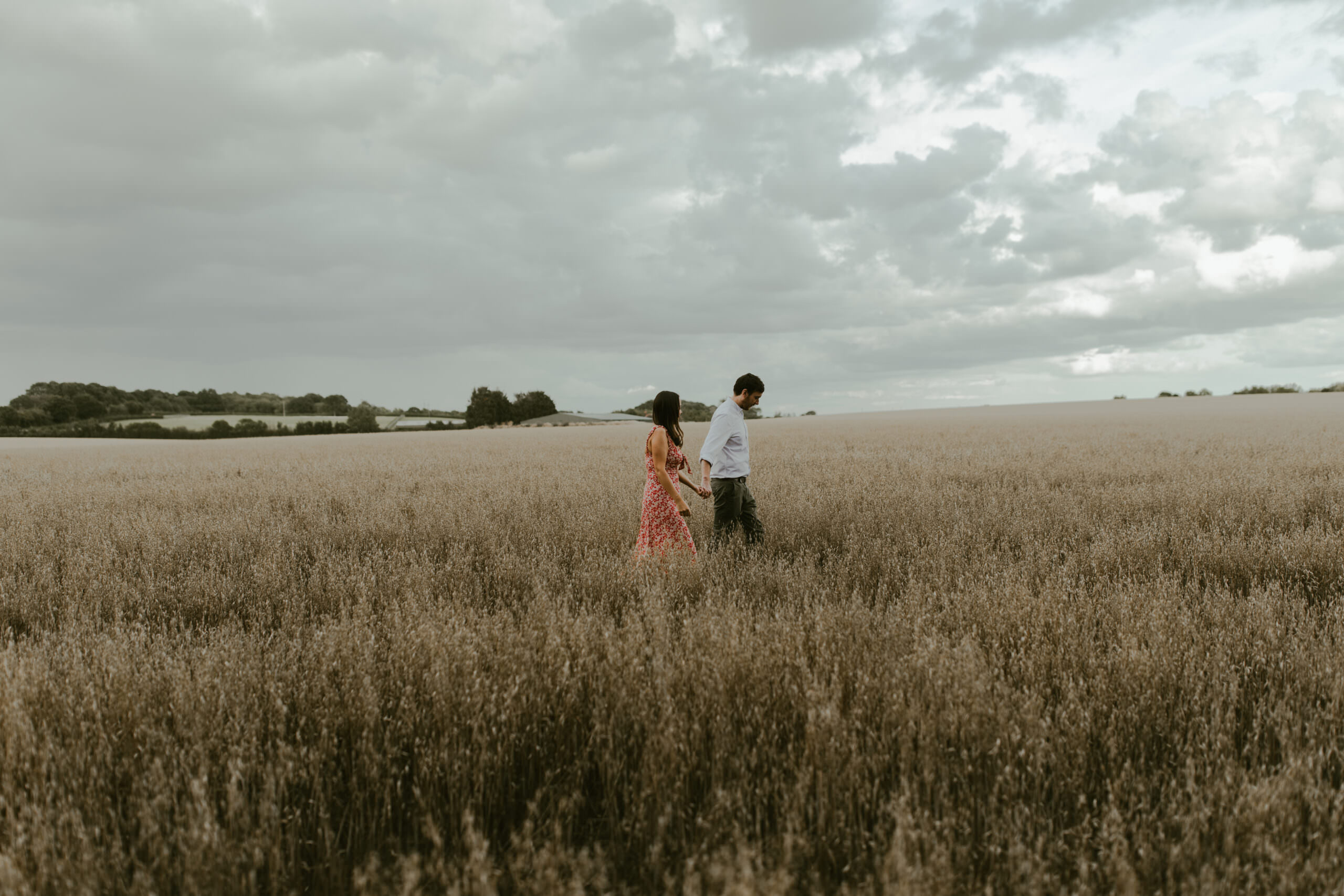 5. WHAT WILL HAPPEN ON THE SHOOT?
We will spend the hour capturing natural moments of the two of you. whilst taking the opportunity to catch up, play some music and have a laugh – it really is as simple as that! There really is no pressure or expectation from you to be anything more than just yourselves. The most important thing is that we have FUN, and the rest will follow!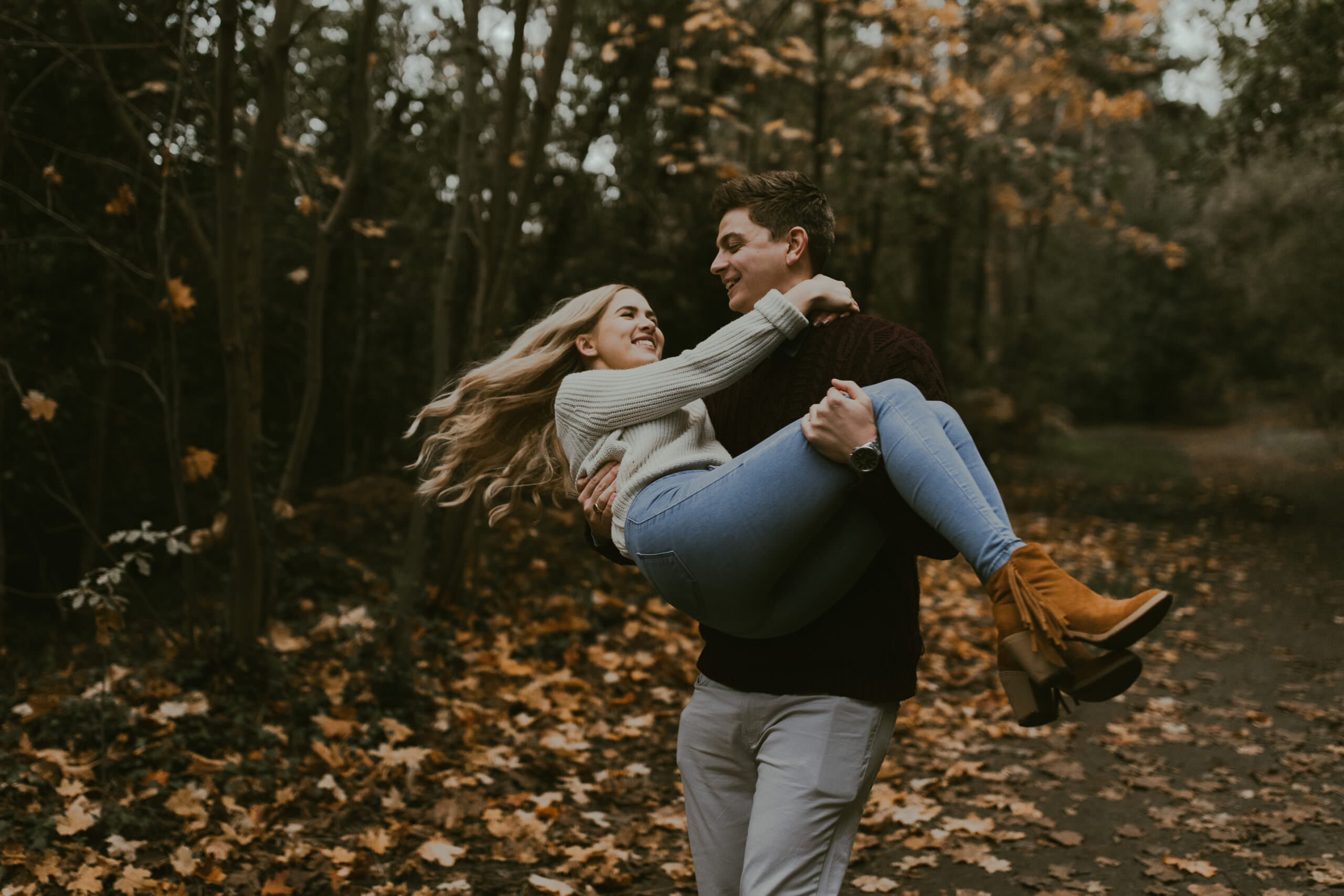 6. OK, SOUNDS GREAT! HOW DO WE BOOK?!
Yay! Pop me an email (contact@jasmineandrews.co.uk) and give me a few dates that you have in mind. Once we have agreed on a date, I'll get you booked in and there will be nothing else to do except turn up on the day at the agreed time and place 🙂 Pre Wed shoots can either be paid in advance or right up until the day itself. Please get in touch for pricing info!
Thanks so much for reading! I hope this blog has helped give you that extra confidence boost and made you feel excited about booking in your Pre Wed shoot. Because yes, you really CAN get beautiful, natural images like these and I can't wait to capture them for you!